Our Founder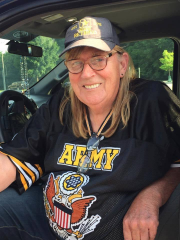 Ellen Kozel
US Navy 1966 - 72,US Army 1976 - 87
Ellen served in the Navy from 1966 -1972 and then joined the Army from 1976 – 1987. At the request of the VA , she built a website to help LGBT loose the fear of the VA and help them to get veterans services through the VA. The site was so successful that she turned it into an organization called Vets Do Ask Do Tell which was later became Veterans for Diversity. She has spent 10+ years working helping Vets with PTSD and MST through the Healing Warrior Hearts program.
She continues her work to veterans now with the formation of No Veteran Left Behind USA.
Ellen is married and lives in West Allis, WI. Her favorite study was electronics engineering through Wentworth Institute of Technology and worked as an engineer using skills learn in the army to develop an employee training manual to increase production on her company's production lines. When desktop computers came into being, she was shifted from her engineering career to computer science. Attending several different colleges in non-credited courses in computer science while working in the field developing programs to assist in manufacturing and Health Care. She retired from the 16th Street Community Health Center as the IT manager and continues her work in helping veterans.